Massimo Micheluzzi
The Intarsio Works
From 10 December
THE EXHIBITION
Willer is delighted to present The Instarsio Works, a new series by the renowned Venetian glass artist Massimo Micheluzzi. Represented in many of the world's leading museums, his exquisite work is much sought after for its beauty, innovative use of colour, and his masterful and inventive interpretation of traditional Venetian glass making techniques.

Micheluzzi's native Venice is a never ending source of inspiration for his work, informed by his strong bond and understanding of the important role art and architecture have always played in the history, and beauty, of his city. Following on from his exploration of the mosaics and terrazzo surfaces found throughout the city (Willer exhibition 2016), Micheluzzi has most recently focussed on the patterns created using Opus sectile, the rare and complex antique art technique of cut and inlaid marble, found in floors of churches, most notably St. Mark's Basilica, and Palazzos, such as Ca' d'Oro, throughout Venice.
But ultimately, what most interests Micheluzzi is the ability to interpret this art form in glass:
"Personally, merely resuming this ancient technique – however rare and refined – is not what motivated me. What interests me is not limited to a flat surface, but is the possibility of giving volume to this technique and above all doing it with glass blowing."
The 20 pieces exhibited at Willer fittingly demonstrate the success of Micheluzzi's skill and vision.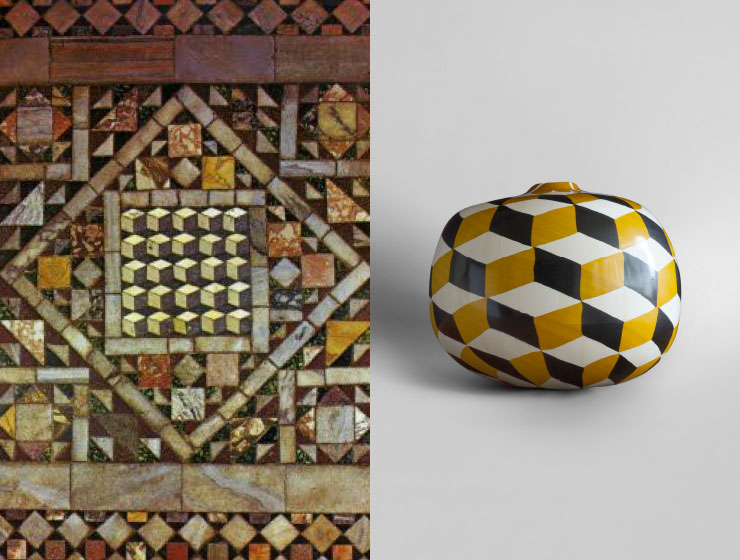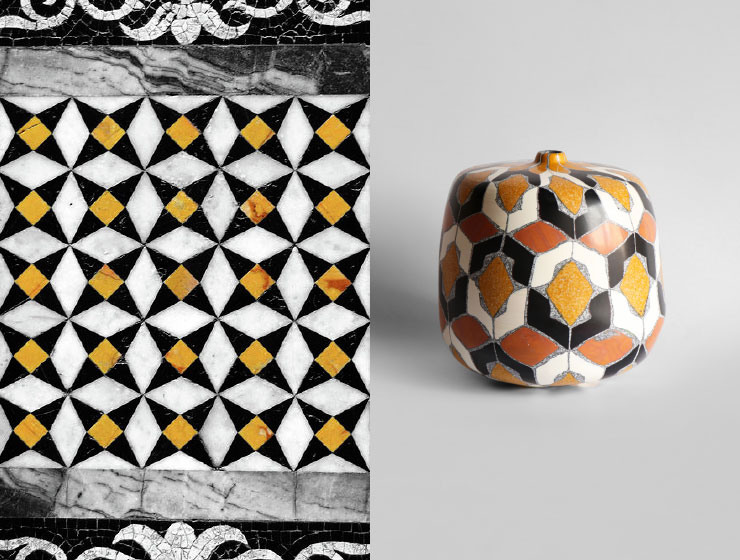 Sections of the Opus sectile floors in St. Mark's Basilica, as reflected in the exhibited Instarsio works.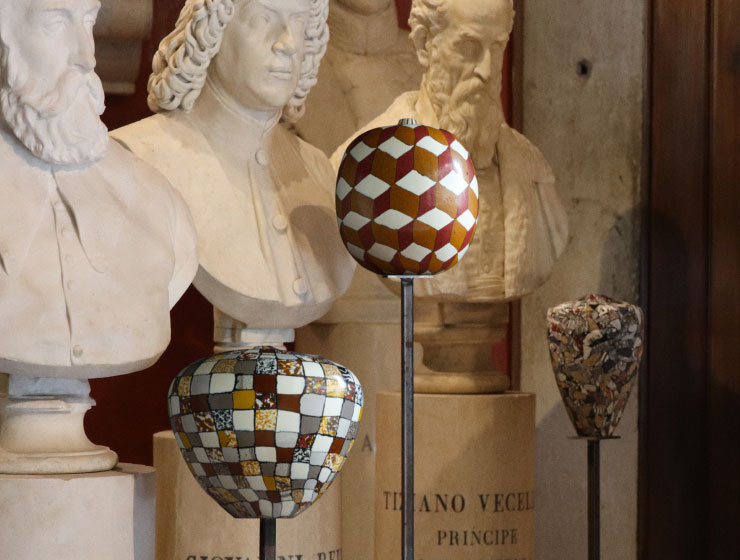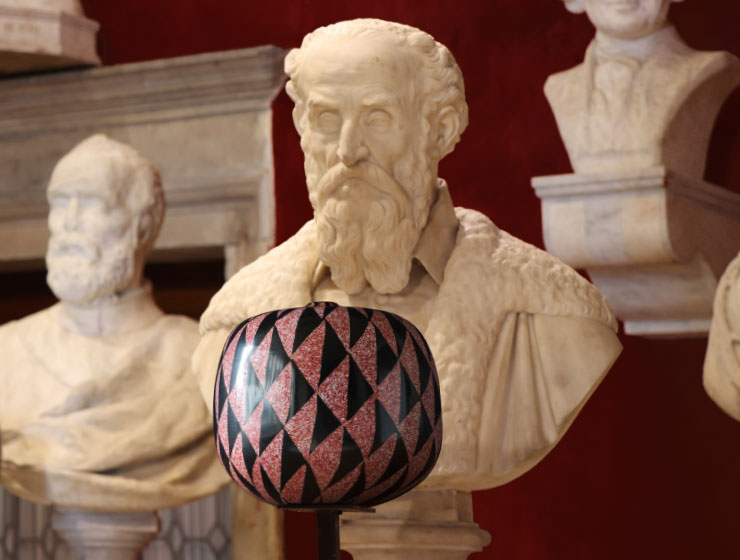 The work in situ at the Palazzo Loredan exhibition 2019, for which Micheluzzi was awarded the Glass in Venice prize in conjunction with Venice Glass Week.
THE ARTIST
Born in Venice in 1957 Micheluzzi studied art history at Ca' Foscari, the University of Venice. He was introduced to the world of glass by the Venini family with whom he started collaborating in 1993. Within a few years he was producing work of his own and in 1998 he had his first exhibition in Milan. Since then he has become a prominent figure in the world of art glass and has regularly exhibited all over the world including in Paris, New York, London, and Japan.
Micheluzzi's distinctive perspective and style creates a contemporary aesthetic while employing centuries old references and techniques. He uniquely maintains an unusual amount of control over the making processes. The flat panels which are the foundation of the Intarsio works are meticulously composed and fused in his studio, relinquished to the glass master for only a small percentage of the total process.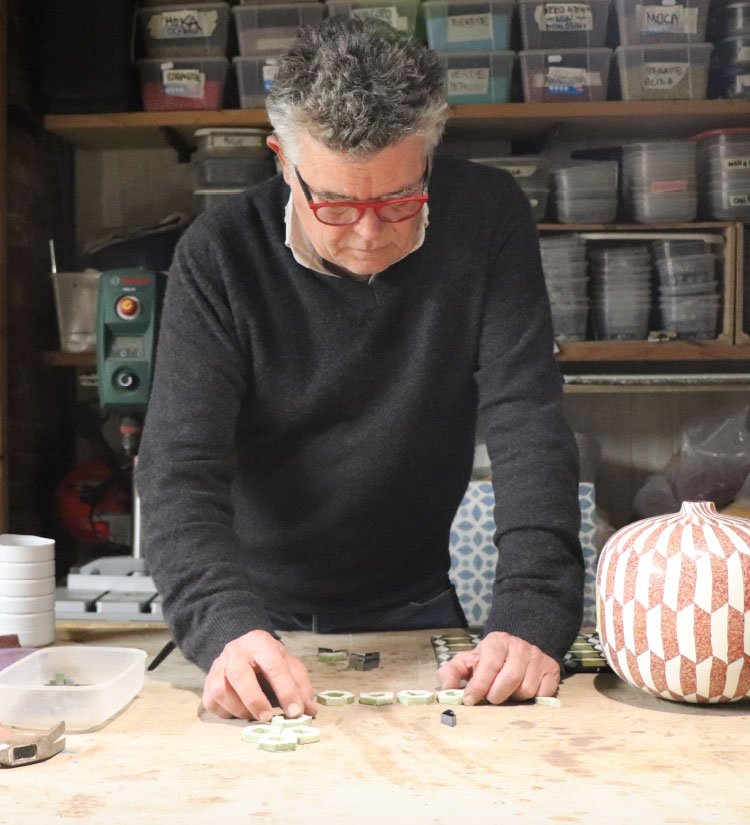 Preparatory drawings | Glass sections – cuts/composition | Glass plate after fusion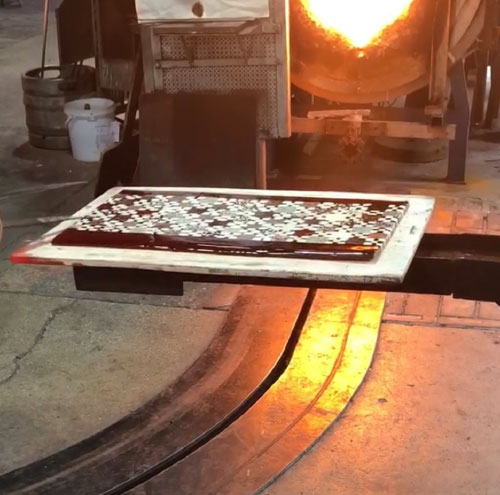 Glass plate reheated before the blowing.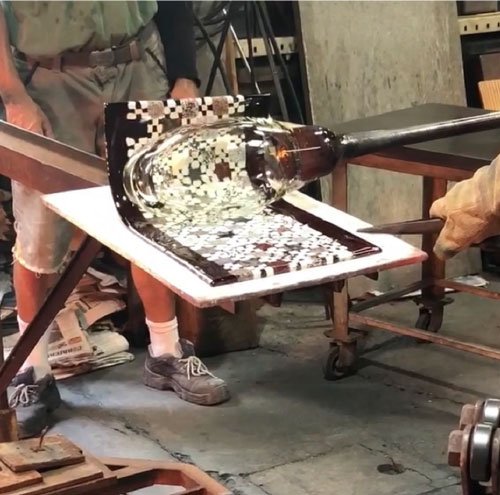 Glass plate rolled around clear glass on a blowing pipe.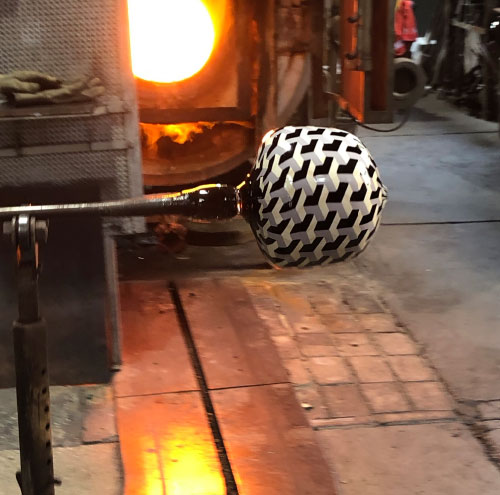 Then blown, creating its ultimate shape and ready to be cut from the blowing tube.

Also at the gallery are pieces that have been created using other traditional Venetian glass techniques, including the artist's monochrome and cold carved work and massive architectonic pieces. All illustrate Micheluzzi's very special relationship with glass:
"Glass is hard, inflexible and incorruptible by nature, mysterious in its essence – an obstinate material to work. If you mishandle glass or work it without due care and attention, it reveals its hidden fragile nature and can cheat you by self-destructing. But if you truly love glass, and really try to understand its needs, it will reveal its infinite creative possibility a bit at a time, rendering an extraordinary depth of colour and lucid surfaces. My mission is to elicit more confidence from the material, hoping that slowly it will reveal its secrets to me."